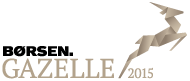 Seluxit can once again be counted among the elite frontrunners of Danish business life as one of Denmark's fastest growing companies.
Today's Børsen (leading Danish business paper) has announced the so-called Gazelle companies for 2015. A Gazelle company is defined as a company which in the course of the previous 4 financial years has had continuous growth, measured in turnover or gross result, and which has overall in that period has more than doubled their turnover or gross result.
According to the Danish state's statistics (Danmarks Statistik), there are around 300.000 active companies in Denmark. Børsen has identified 1.461 companies as Gazelles for 2015. On this list Seluxit is ranked number 227 with a growth of 298,2%.
The 2015 Gazelle is Seluxit's second, but we're not looking back.