Seluxit was founded in 2006 with the dream of creating the intelligent house; a house that not only makes daily life easier, but that also automatically reduces our energy usage. We have developed a comprehensive, technical platform that quickly, easily and at low cost can digitize companies' products, benefiting both them and their customers. Throughout our history we have run a sound business while investing internally to ensure our technological leadership.
The 9th of November 2018 we had first day of trading on the Nasdaq First North, where we have raised capital to further develop our company and secure our position among the technological leaders in IoT, in a market expecting significant growth globally.
Sales director with strong drive and technical experience
We are currently looking for a Sales Director to a newly created position, as a part of our accelerated growth strategy. As our new Sales Director you will be responsible for growing Seluxit's client portfolio and build relationships with key buyers and decision-makers at new and existing clients through all sales phases, including origination, qualification, sales pursuit and close/contracting. You will define the sales execution strategy, within the framework of Seluxit's business plan and establish the sales organization and efficient sales process. You will become part of a very dedicated management team and an organisation passionate about what they do.
Growing Seluxit's client portfolio focusing on Europe
You will be responsible for all sales and marketing activities with the purpose of growing Seluxit's client portfolio in Europe, focusing on building relationships with key buyers and decisionmakers at new and existing clients through all the sales phases.
Based on Seluxit's overall strategy, you will define and operate the sales strategy, build a structured and successful sales process, including tangible targets and actions as a foundation of building an efficient sales organisation.
Additionally, you will define the marketing strategy with an action plan, supporting the sales activities and the employer branding that are in line with the development of the business in new and emerging markets.
Working at Seluxit means that you
• are genuinely engaged in your work
• are constantly improving your abilities
• take responsibility for your work
• work collaboratively
You need to be ambitious in your career, and we will in response help you grow in the direction that you choose instead of forcing you into a predetermined box
Our working environment is fun and supportive. We're busy, but we're always smiling and have a pleasant atmosphere of camaraderie and openness. We highly value diversity, so we're men and women, younger and more experienced, and we come from all over Europe and beyond.
Your responsibilities and tasks will include:
Strategy & Execution
• Develop the sales strategy, organization and go-to market plan for an innovative company with ambitious growth strategy • Develop recommendations for growth, opportunities for growth, and key target accounts • Manage the customer sponsors (VP-level) and their "Champions" in the tech departments
Sales & Organisation
• Responsibility for all sales and marketing in all markets • Lead negotiations for large complex deals in cooperation with the CEO • Work closely with CEO and technical department to enable optimum sales performance • Initiate, establish and maintain contact with team members, prospects, clients, and partners • Optimize the lead time of sales as much as possible (currently sales process is 6-18 months) • Recruit and develop the sales organization who can execute the growth strategy
Sales Process
• Build a solid and reliable pipeline as a foundation for precise forecasting • Accurately manage and report on the sales pipeline, initiatives, success rate and development • Develop and maintain a complete knowledge of Seluxit's products
Experience with technical sales and strategical IT projects
You might have a MSc, MBA or similar. Alternatively, a technical education supplemented by a business education. It is crucial that you have an international sales management profile with more than 10 years of successful experience in building an international sales organisation with an OEM and CAM focus and well documented experience with complex and technical sales and strategical IT projects.
English is the preferred company language. You have experience negotiating large complex deals with complex terms, conditions and price pressure with a complex buying centre of both CxO level and technical level members. A solid experience from doing business in the German market at negotiation level is a plus.
You have a proven track record building and executing sales strategies in growth companies and have a strong commercial mindset. You are self-motivated and others see you as a strong communicator with pro-found skills in Strategic Solution Selling. You are performance focused and driven by pipeline management, sales follow-up and goals/KPI.
As a person you seek influence and gladly takes the room with great energy and high work capacity. Your colleagues see you as an empathic and understanding person who proactively seeks the social contact internally as well as externally. It's natural for you to have a good and objective scepticism about new situations and initiatives. You see yourself as a person with a great overview without neglecting relevant details and generally makes decisions on a secure basis as well as being pragmatic. You appreciate structure and methods in your work.
Be part of a successful journey
You will be part of a successful journey with a global technology leader with unexplored opportunities and a great growth potential. You will get the opportunity to have influence at Seluxit where IoT investments over the next 3-5 years are expected to increase exponential across industries and geographical regions.
If you have an entrepreneurial mind and would like to be a part of a company with unquestionable professional integrity, credibility and character with a positive and motivating mindset and be a role model for the new sales organisation then this is the opportunity for you.
Application and questions
Comentor handles the recruitment process on behalf of Seluxit and you must submit your application via www.comentor.dk as soon as possible.
If you have any questions about the position, you are welcome to contact Research Manager Mette Kellberg Jensen +45 28 99 84 24 or CEO and Headhunter Jakob Møller Hansen from Comentor on tel. +45 28 99 84 30.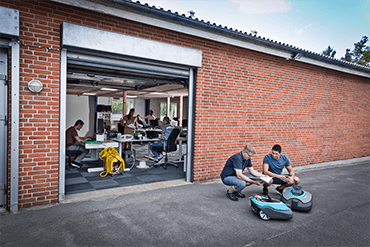 Flexibility
People are different. Some thrive with a foreseeable workday digging into important details, some thrive with more variation. We have a flexible workplace, allowing each of us to perform our best. Flexibility is more than just accommodating type A and type B personalities, it is a philosophy of optimizing collaboration.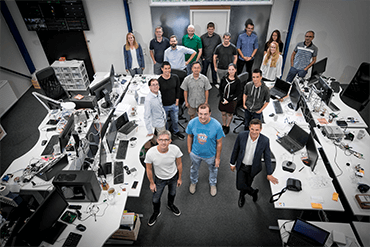 Diversity
Diversity is essential for innovation. Highly motivated, skilled people are essential for success. With 10 nationalities represented, speaking 19 languages, it's now wonder that our company language is English. We're both men and women, younger and more experienced, and we come from all over Europe and beyond. But we're a unified team.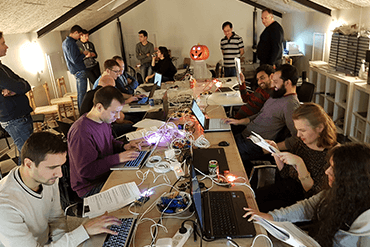 Social life
Yeah, we're a little nerdy. But on and off the pitch, we have fun together. Whether discussing the virtues of different frequency modulations or hot sauces at the lunch table, or discussing world politics (of our real or fictional worlds) at our regular game night, Seluxit has an inclusive and friendly atmosphere.