The Seluxit IoT Platform
The right functionality, the right price
Why do you need an IoT platform?
An IoT platform is an essential part of every Internet of Things solution.
The IoT platform is the backend system that enables users to securely control their devices over the Internet. The IoT platform lets users register, add their devices to the network, and then control their devices. For example they can turn devices on or off or store and retrieve data from their devices. Beyond this, an IoT platform can help users configure automated systems where devices behave based on different conditions. These conditions could be the state of other devices in the network, but it could also be external digital services such as weather forecasting or data analysis services. Finally, IoT platforms serve as a touch point for the creation of user interfaces.
Why choose the Seluxit IoT Platform?
You should choose the Seluxit IoT Platform to reduce your risk, time-to-market and price.
The Seluxit IoT Platform has been in the market in continuous development for over 10 years, making it reliable, secure and proven. Our experience and expertise means that our customers' time-to-market is reduced significantly. Key clients, such as Gardena of Husqvarna Group and Innogy / RWE, Germany's second-largest utility company, trust Seluxit as a valued vendor.
Formed over years of experience, the Seluxit IoT Platform features a unified data model which means that the data model of any device or any service from any producer can be modeled in the Seluxit IoT Platform. As opposed to some of our competitors who give you an infrastructure but don't give you a recipe for success, we offer an established structure that gets you to market quickly and make sure your project is a success.
The Seluxit IoT platform has recently been introduced to the market with a new business offering. This offering is based on the operation of the IoT platform in a shared environment, thus ensuring the operation of the platform for years to come, independently from the product producers, and thus further lowering risk. This offering also features a new simplified pricing model.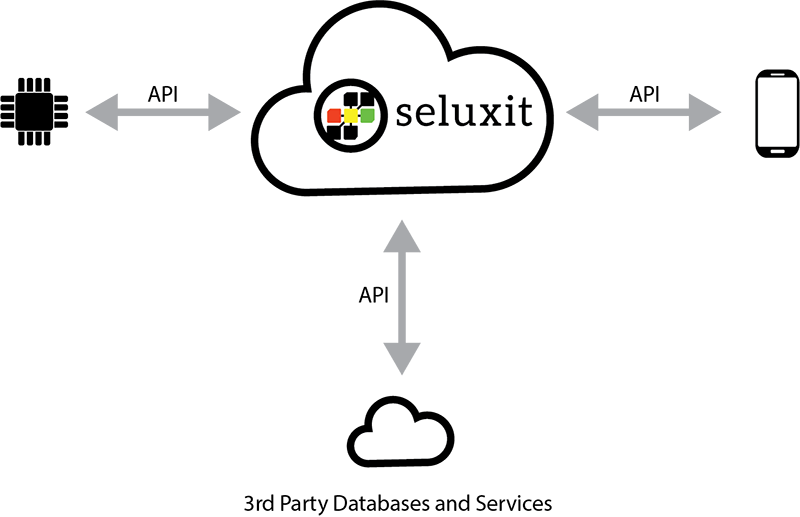 Seluxit IoT Platform features
RESTful APIs
Protocol converters
Stateless middleware for local or cloud deployment
User management with sharing
Device management
Control rules based on extensible microservice architecture
Data logging
SSL / VPN connectivity
Certificate generation
ACL tables
Anonymized data
Separation of data
Ingoing & Outgoing load-balancing
Device manufacturing support (eSIM, unique ID key generation)
IoT Rapid Prototyping tools (parallel data-model "contract" between UI & device developers)
Open-source reference code
How much does the Seluxit IoT Platform cost?
The price is based on traffic. All that counts is the monthly amount of data used.
Subscription option
Rollover option
Data cap, month for month
Data quantity, no time limits
2GB/Month
€5
1GB
€5
5GB/Month
€10
2GB
€20
10GB/Month
€15
10GB
€35
20GB/Month
€25
50GB/Month
€50
Additional increments of 10 GB for €10
This is an initial offering with our new pricing model. Pricing is therefore subject to change. Data storage, such as log data, will soon be announced as a separate product.
Because the Seluxit IoT Platform pricing structure is so simple, it does not need to discriminate between individual or corporate users. This means that individual hobbyists as well as startups, and any sized company developing IoT products can expect free service because of the low data quantities of individual product development. This is particularly great for all the makers out there that are looking for a free and easy-to-use IoT Platform.
If the company producing the connected product does not need access to the data generated, the user accounts can be transferred to the end customers, effectively meaning that the operation of the IoT platform is free for the company.
Consider these two examples.
In both examples, each device sends 0,5 KB every 15 minutes. Data is both sent to and forwarded out of the IoT platform.
10.000 accounts
10.000 things
1 account
10.000 things
Each individual user pays and manages access to their data
The company pays and manages access to each users data

€0,-

/month
Up to 69 devices*

€45,-

/month
10.000 devices**
Wappsto: Wapps and third-party integrations
The platform also has an extension product called Wappsto. Wappsto serves as a basic dashboard for IoT platform developers. Wappsto also allows web apps to be created using simple JavaScript. We call them wapps. Beyond the user interface, these wapps can also easily incorporate third party devices and services and processes can be automated from operation on our servers. The producers device can also optionally be put into a marketplace where the producer can benefit from the added value of different apps being created using their product. Read more at the Wappsto General information site.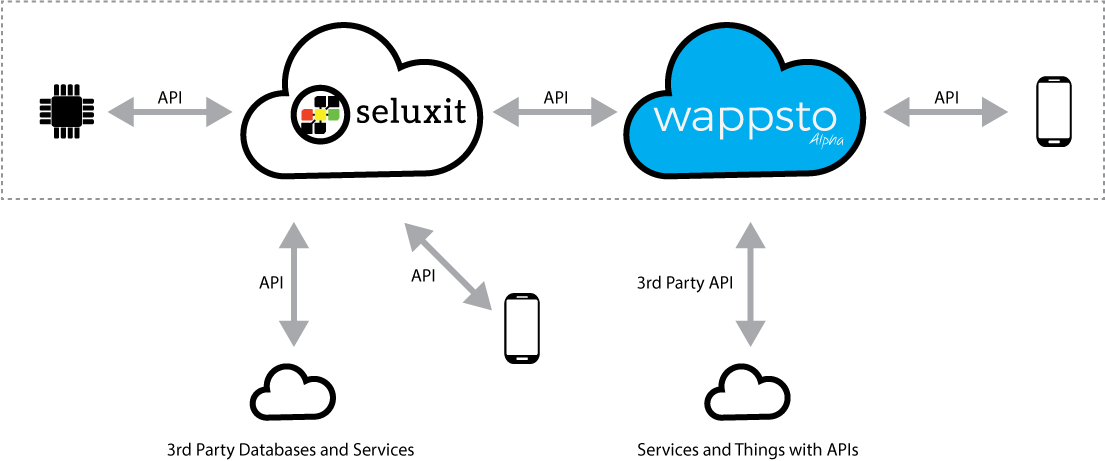 Standardized with one codebase for all our customers