Experienced Key Account Manager with a technical background
We are currently looking for a Key Account Manager to a newly created position, as a part of our accelerated growth strategy. As our new Key Account Manager, you will be responsible for developing our customer portfolio in one of our 3 key segments; Smart Meter, Smart Home, Smart Machine. The segment you will start in depends on your network, experience and qualifications. You will work close together with our technical staff in offering the best possible experience and product to our current and potential customers. Your will be responsible for contract negotiations, CRM management, documentation and reporting for your segment, supported by administrative staff. We are looking for a person who has a strong drive and who is naturally curious about new technologies.
Your responsibilities and tasks will include:
Customers
• Building and developing our customer portfolio
• Identifying and building relations with new potential customers
• Ensure execution of follow-up on current and pipeline customers
• Work closely with the technical department on product development and technical sales
• Negotiations of customer contracts
Sales Process & Reporting
• Development of standardized sales process
• Development of sales material and documentation
• Responsible for monthly and ad hoc reporting on the sales pipeline, initiatives, success rate and development
• Close cooperation with marketing on sales and marketing activities
• Participation in marketing activities and trade fairs

Working at Seluxit means that you
• are genuinely engaged in your work
• are constantly improving your abilities
• take responsibility for your work
• work collaboratively
You need to be ambitious in your career, and we will in response help you grow in the direction that you choose instead of forcing you into a predetermined box.
Our working environment is fun and supportive. We're busy, but we're always smiling and have a pleasant atmosphere of camaraderie and openness. We highly value diversity, so we're men and women, younger and more experienced, and we come from all over Europe and beyond.
About working at Seluxit
Seluxit was founded 12 years ago with the dream of creating the intelligent house; a house that not only makes daily life easier, but that also automatically reduces our energy usage. We have developed a comprehensive, technical platform that quickly, easily and at low cost can digitize companies' products, benefiting both them and their customers.
Throughout our history we have run a sound business while investing internally to ensure our technological leadership. The 9th of November 2018 we had first day of trading on the Nasdaq First North, where we have raised capital to further develop our company and secure our position among the technological leaders in IoT, in a market expecting significant growth globally.
Further information and applications
The position is based at our office in Aalborg. Send your application to jobs@seluxit.com as soon as possible and no later than 10th of February 2019. For additional questions please contact CEO Daniel Lux at jobs@seluxit.com or +45 46 922 722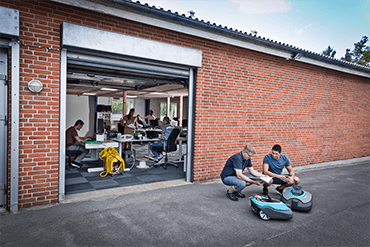 Flexibility
People are different. Some thrive with a foreseeable workday digging into important details, some thrive with more variation. We have a flexible workplace, allowing each of us to perform our best. Flexibility is more than just accommodating type A and type B personalities, it is a philosophy of optimizing collaboration.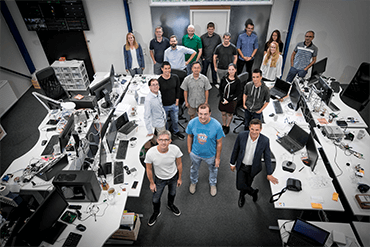 Diversity
Diversity is essential for innovation. Highly motivated, skilled people are essential for success. With 10 nationalities represented, speaking 19 languages, it's now wonder that our company language is English. We're both men and women, younger and more experienced, and we come from all over Europe and beyond. But we're a unified team.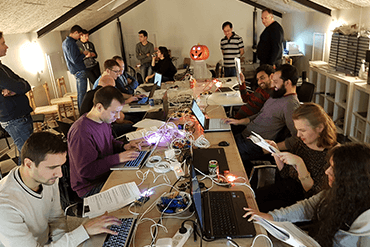 Social life
Yeah, we're a little nerdy. But on and off the pitch, we have fun together. Whether discussing the virtues of different frequency modulations or hot sauces at the lunch table, or discussing world politics (of our real or fictional worlds) at our regular game night, Seluxit has an inclusive and friendly atmosphere.