Get Your AEDs on the Map
Free Dashboard Offering
SLX Heartbeat Dashboard
Map overview including opening hours
Input AED info
Upload AED data files (for multiple AEDs)
Everybody can find their closest AED
Additional info for monitored AEDs
Free of charge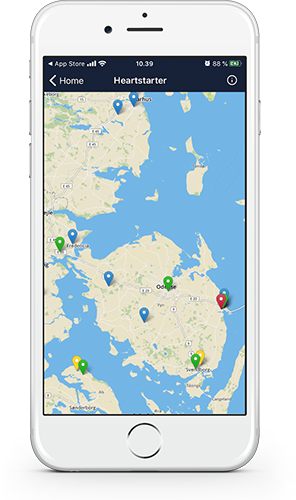 The SLX Heartbeat Dashboard was created for our AED status monitoring solution, SLX Heartbeat.
But the dashboard can be used independantly by anybody to view and collect information on AEDs, whether they are monitored by our system or not.
That means that national heart foundations and other service organizations can upload data on their AED fleet and provide a map - for free.
That also means that small businesses and other owners of AEDs can input data on their AEDs themselves.
You can offer this free tool as a central place for information about AEDs that will allow users to find their closest AEDs.
More information
The SLX Heartbeat Dashboard is available for free in Wappsto by Seluxit. To get started, contact us at sales@seluxit.com, or drop us a line using the form below.