AED Status Monitoring
Improve AED service, reduce your effort. The process is easy using SLX Heartbeat.
1
Retrofit SLX Heartbeat to your existing AEDs
2
The dashboard tells you when your AEDs need service
3
Your AEDs are always ready to save lives
24/7 monitoring and preventive maintenance is key to prevent malfunctions. We need to trust our AEDs to work - when it matters. It is a question of saving lives.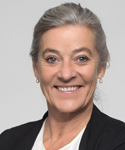 SLX Heartbeat helps us improve our service business. It is an easy-to-upsell product, that we can retrofit into AEDs and cabinets already out there.