Follow our recipe for IoT Success
Seluxit offers a complete tool kit with everything you need for a full IoT deployment at scale.
Seluxit IoT Solution Builder
From lightbulbs to lawnmowers, electricity meters to industrial pumps, the Seluxit IoT Solution Builder encompasses the tools Seluxit uses to create secure, robust solutions for our customers.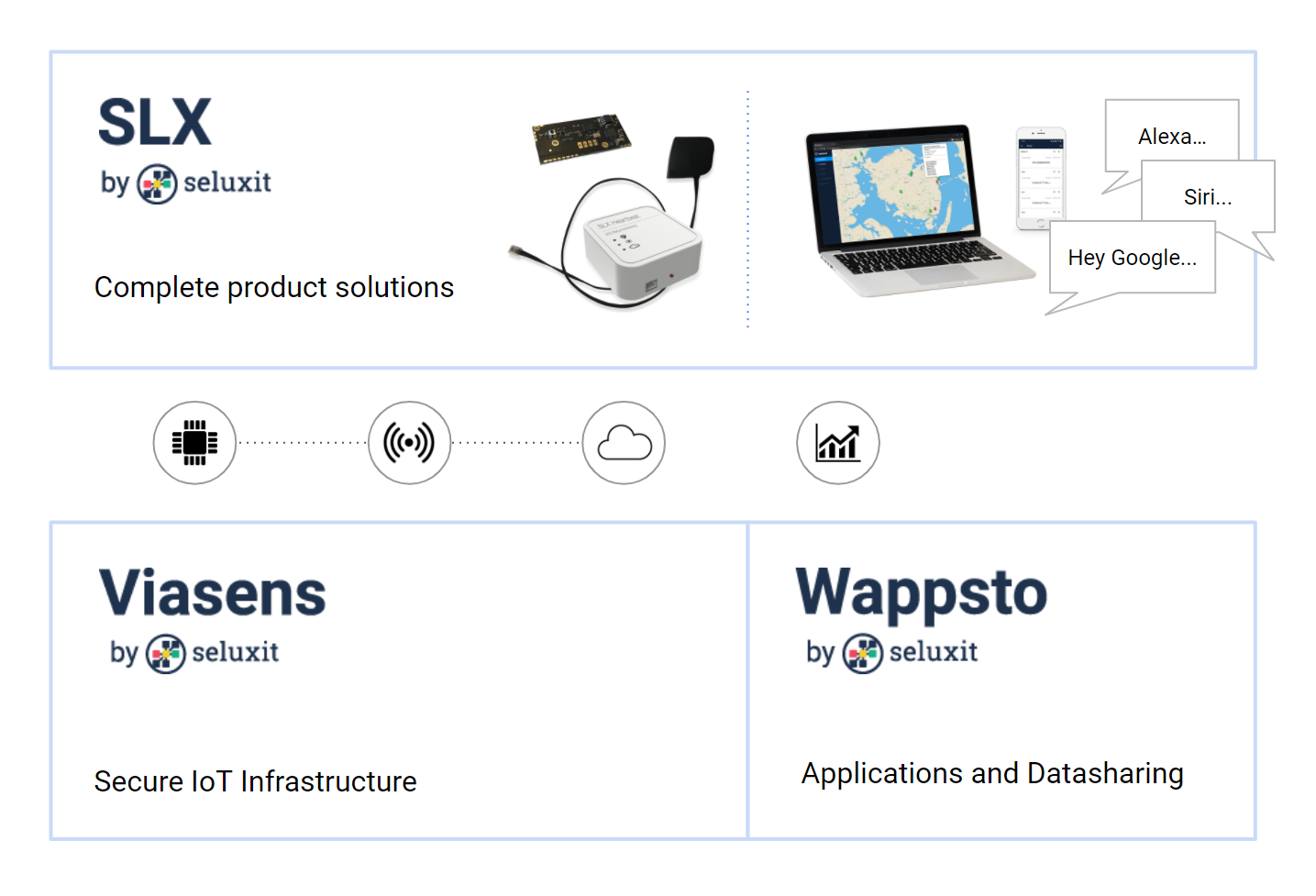 SLX Product Series
The SLX Series is our own series of complete product solutions. SLX physical products are preconfigured for with Viasens by Seluxit, our secure IoT infrastructure. Depending on the specific hardware version, SLX physical products can support a range of wireless protocols, from Wi-Fi and Bluetooth to 4G/3G, NB-IoT, LoRa® and LoRaWAN® and more. Data analysis, automations and user interfaces are built with the functionality provided by Wappsto by Seluxit.
Some SLX products are building blocks used by developers, such as SLX Porcupine or SLX Porcupine SOM, while others are complete solutions for specific applications, such as SLX Heartbeat (AED status monitoring) or SLX Sparrow (embedded smart-meter modem).
Viasens by Seluxit
Viasens by Seluxit is our secure IoT Infrastructure. Viasens is both open-source connectivity firmware and device management in the cloud. Viasens features secure connectivity, multiple protocol support, over-the-air firmware update, optional cloud data storage, and data forwarding to third parties. Viasens features Seluxit's own Unified Data Model (UDM), a data structure ensuring interoperability. The UDM is rigid enough to be useful, but generic enough to be flexible.
Wappsto by Seluxit
Wappsto enables applications and datasharing. On the one hand, Wappsto is an appstore and data marketplace. On the other hand, Wappsto offers tools that allow developers to create IoT applications as web apps with integrations and automations, using Viasens as the backbone. Because of our Unified Data Model (UDM), applications and data assets created using Wappsto can be combined, creating novel mashup applications. Wappsto apps, or 'wapps', include our dashboard, enabling fleet management and status monitoring with configurable alarms.
We also have generic native Android and iOS apps (Seluxit Device List), which serve as reference code and also function out-of-the-box, aiding the development process.