CFO for IoT company with a strong growth strategy
We are currently looking for a business minded CFO, as a part of our accelerated growth strategy. As our new CFO, you will work with a wide span of tasks, making the job both challenging and interesting. You will be responsible for the financial reporting to our management and Board of Directors and the stock market. You will be part of the management team, consisting of CEO, CTO and Sales director (new position), where you will contribute to the development and the execution of the strategic focus areas, responsible for performance management, reporting and follow-up. Furthermore, you will be responsible for Investor Relations in cooperation with marketing and CEO. You will be responsible for Finance, Legal, HR, with currently 2 employees, 1 finance assistant and 1 legal assistant /management assistant. For the right candidate, it is a position with high development potential and a large influence on how the job is done.
Your responsibilities and tasks will include:
Financial and Performance Management
Responsible for reporting to management and Board of Directors
Budget and forecast
Maintain and improve the KPI reporting and have good insight into what is important for business decisions
Insurance & Risk Management
Compliance
Responsible for correct bookkeeping, invoicing and payments
Responsible for continuous follow-up and execution of planned activities
Process efficiency and support
Continuously ensure a solid and cost-efficient accounting process
Support sales and management in contract negotiations and execution
Contact with auditors, lawyers, and other external consultants
Responsible for building internal processes and procedures, to ensure both compliance and efficiency and value in execution
Investor Relations
Responsible for IR strategy and execution, in cooperation with CEO
Ensure correct reporting to market and stakeholder
Ensure compliance with rules and regulation of the Nasdaq First North and compliance stakeholders
Your profile
Experience from a listed company or a company with high compliance standards
Experience and track record within Finance Management and process improvement
Experience with IR is a plus
Structured, engaged and result oriented
Strong drive and ability to work independently
Like to work in an agile innovative environment
Fluent in Danish, English and preferably German
Possibility to travel (up to 10-30 days per year)
Working at Seluxit means that you
Are genuinely engaged in your work
Are constantly improving your abilities
Take responsibility for your work
Work collaboratively
You need to be ambitious in your career, and we will in response help you grow in the direction that you choose instead of forcing you into a predetermined box.
Our working environment is fun and supportive. We're busy, but we're always smiling and have a pleasant atmosphere of camaraderie and openness. We highly value diversity, so we're men and women, younger and more experienced, and we come from all over Europe and beyond.
About working at Seluxit
Seluxit was founded in 2006 with the dream of creating the intelligent house; a house that not only makes daily life easier but that also automatically reduces our energy usage. We have developed a comprehensive, technical platform that quickly, easily and at low cost can digitize companies' products, benefiting both them and their customers.
Throughout our history, we have run a sound business while investing internally to ensure our technological leadership. The 9th of November 2018 we had our first day of trading on the Nasdaq First North, where we have raised capital to further develop our company and secure our position among the technological leaders in IoT, in a market expecting significant growth globally.
Further information and applications
The position is based at our office in Aalborg. Send your application to jobs@seluxit.com as soon as possible and no later than 10th of February 2019. For additional questions please contact CFO Mille Tram Lux at jobs@seluxit.com or +45 46 922 722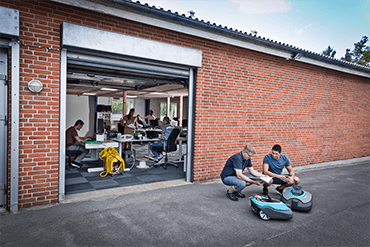 Flexibility
People are different. Some thrive with a foreseeable workday digging into important details, some thrive with more variation. We have a flexible workplace, allowing each of us to perform our best. Flexibility is more than just accommodating type A and type B personalities, it is a philosophy of optimizing collaboration.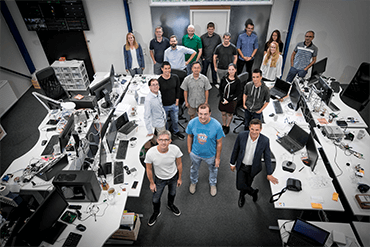 Diversity
Diversity is essential for innovation. Highly motivated, skilled people are essential for success. With 10 nationalities represented, speaking 19 languages, it's no wonder that our company language is English. We're both men and women, younger and more experienced, and we come from all over Europe and beyond. But we're a unified team.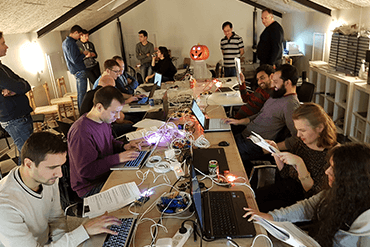 Social life
Yeah, we're a little nerdy. But on and off the pitch, we have fun together. Whether discussing the virtues of different frequency modulations or hot sauces at the lunch table or discussing world politics (of our real or fictional worlds) at our regular game night, Seluxit has an inclusive and friendly atmosphere.