Shorter time to market reduces cost, risk and increases revenue, therefore giving a better bottom line.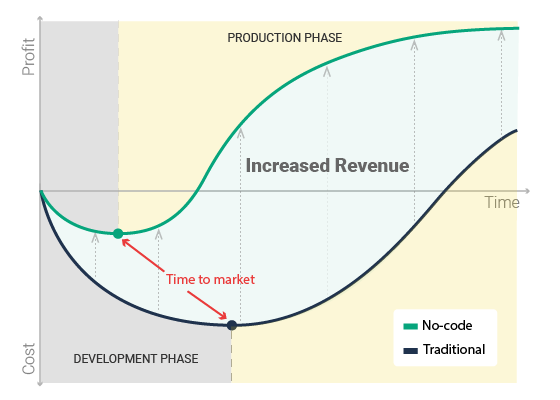 Increase Revenue

The sooner your product is available to the market, the faster it will generate Revenue. With a No-code or low-code solution, the development time is minimal.
But reaching the market quickly also has other positive side effects. You will learn how your customers perceive your solution, what improvements are necessary, and how to innovate faster.
IoT is a rapidly evolving technology. Therefore it is essential to renew your products at regular intervals. You can reduce the time between product versions by shortening the development cycle.
75% of IoT projects fail
According to different researches, the majority of IoT projects fail, and there are various reasons for this, among others:
Underestimated complexity
Lack of skilled professionals
Unclear business goals
Cybersecurity issues
Scalability issues
Bad value proposition
Bad user experience
Long completion times
Poor quality of data collected
Budget overruns
With the right IoT partner, you can eliminate most of the reasons for failure because they have learned from their challenges in the past.
At Seluxit, we have developed IoT solutions since 2016. We have seen numerous business cases. We have implemented solutions that use diverse communication technologies and create value through easy-to-use user interfaces and business reports.