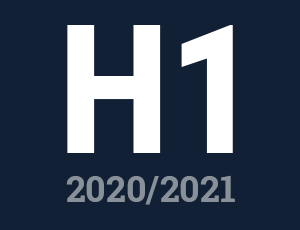 Seluxit presents a half-year report in which EBITDA is maintained despite a significant reduction in revenue. Revenue from licenses and subscriptions has doubled compared to the same period last year, while revenue from sales of radio modules for Smart Meters has been postponed, due to COVID-19 delayed roll-out of Smart Meters in Germany.
CEO Daniel Lux, Seluxit:
2020 has been a year marked by COVID-19. Everybody and the entire world economy was affected, first by a downturn and slow down, and then by local and geographical restrictions that create uncertainty about the future.
Seluxit has managed to maintain the expected EBITDA, despite significantly lower revenue. This is primarily because cost-reducing measures were implemented quickly.
During H1 2020/21, Seluxit experienced the following significant changes compared to the same period last year:
Revenue was heavily affected by the delay in the rollout of Smart Meters in Germany
The number of devices on the SLX IoT platform has doubled
Revenue from license and subscription has doubled
2 new products in the market – SLX Heartbeat and SLX Smart Oven
New product development and launches – SLX IoT Meter and SLX Wappsto:bit
All in all, I think we have managed to create a satisfactory result when it comes to the growth of our IoT platform and the launch of new products. We have adapted to the new reality and therefore expect to be able to deliver a result that is on par with what was previously announced, despite a significantly lower turnover in the first half of our fiscal year.
It is very clear how important it is that we create growth on our SLX IoT platform and offer easily accessible End-2-End solutions. Hereby many more can connect their things to the Internet and use the Seluxit IoT platform for data collection, storage and analysis.
Seluxit maintains the expectations announced in Company Announcement number 28 for the financial year 2020/21, where revenue for 2020/21 is expected to be between DKK 8-12 million. and the EBITDA is expected to be between DKK -4 and -5 million.